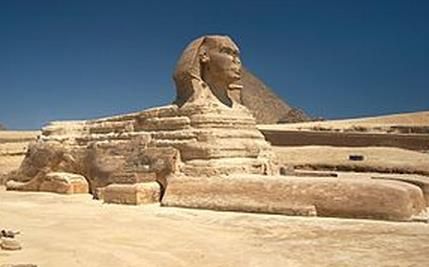 The Real Thing
The word sphinx in Greek means "strangler." More commonly, it refers to a creature in Greek mythology with the body of a lion, the head of a woman, and the wings of an eagle. The stone Sphinx in Giza, Egypt, was built to protect the graves in the pyramids. The name Sphinx was assigned by the Greeks, drawing on their own mythological traditions. The original name of the Sphinx remains unknown.
-
Canon
A Grande Esfinge de Gizé (ou Guizé) é uma enorme esfinge (estátua composta do corpo de um leão e uma cabeça humana) situada no norte do Egito no planalto de Gizé na margem oeste do rio Nilo, nas cercanias da atual metrópole do Cairo. A grande esfinge é uma das maiores estátuas lavradas numa única pedra em todo o planeta e foi construída pelo antigos egípcios no terceiro milênio antes de Cristo. Porém, existe um grupo de pesquisadores que afirma que a esfinge seria muito mais antiga, datando de, no mínimo, 10.000 a.C., baseando-se na análise do calcário e sinais de erosão provocados por água
. -
Wikipedia
Link:
The.Great.Sphinx.Of.Giza.Paper.Model.by.T.Ichiyama.Canon
More Egyptian Paper Models related posts:
Tutankamon`s Death Mask Paper Model - by Papermau - Máscara de Tutankamon
Egyptian Memory Game - by Papermau - Jogo Da Memória Egípcio
Mummy`s Sarcophagus Paper Model - by Papermau - Download Now! Sarcófago Da Múmia
Egyptian Guys 3D Pop-Up - by Papermau - Download Now!